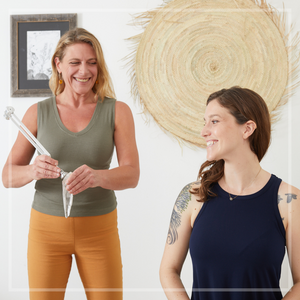 Tune Yourself Into Health
 [ Gain access immediately after purchase by signing into your customer account and then selecting "MY DIGITAL FILES" ] 

If you aren't going out, stay in and work on yourself! Tuning forks can be used to quiet our minds, settle our emotions, and even smooth our cellulite! These tools are effective, elegant, and inspiring to use. Discover the amazing power of sound to help shift our state and our bodies! In a changing world, the certainty of self-care really is the best investment we can make. 
Become proficient using high quality sound therapy tools to support your own health and well-being! Every person of any age can benefit from adding coherent sound into their bodies and environments. In this special 5 videos with Eileen you will learn, practice tuning, and have fun! You'll be empowered and energized to tune yourself into health now and always.
Please note - this class is not part of our Biofield Tuning Practitioner Certification program. It does not train you or provide you with a certificate to work on other people. This is a program solely to teach you to work on you.
Over these 5 videos we will cover:
Video 1 | Philosophy and Tools
Video 1 begins with the philosophy of self-care and the many health benefits of caring for your human animal.  You will learn about the Biofield, tuning the Biofield, and details about the tools used. Eileen will begin to instruct you on how to activate and apply weighted tuning forks. The themes of centering and grounding are central in this first session together.
The Philosophy of Self-Care. Boundaries and Grounding

Care and feeding of your human animal

Where does health come from

What is the Biofield

What is Biofield Tuning

What are the tools we use?

How to activate and apply a weighted fork

Centering and Grounding
Video 2 | Intro to the Biofield Anatomy and Using a Weighted Fork
In video 2 Eileen continues teaching about how to use weighted forks with and without accessories. Focus areas include learning the language of vibration, defining the Biofield Anatomy, and an exploration of personality types and tendencies.
How to use a weighted fork on the body, with and without accessories

Understanding the language of vibration

What is the Biofield Anatomy?

How do we work with it?

Personality types, tendencies and patterns
Video 3 | Doing an Adjustment on your own Hologram* with Unweighted Forks
In video 3 Eileen will lead everyone through an adjustment on themselves! You will learn how to determine where to work yourself, the details of field combing, what an adjustment looks and feels like, columning, closing, and aftercare.
How to activate and handle an unweighted fork

Determining where to work

How to do click, drag and drop, or field combing

What an adjustment looks and feels like

Columning - how and why we do it

Wrapping up and aftercare
  *your hologram is an imagined projection of your own body and biofield - it is just that simple and it works!
Video 4 | Going Deeper - Understanding Deep Sensing
In video 4 Eileen will discuss pathways of perception, recognizing different textures and sounds encountered in the field, and the need for deep curiosity and self trust. Through expanding your practice of deep sensing, you will also practice grounding and connection to Source. This class session explores emotions and what to do with them and emphasizes the importance of self compassion, kindness, and patience. 
The different textures and sounds you encounter in field and what they mean

The different pathways of perception - how we receive and understand information

Trusting yourself, staying curious

The importance of compassion and kindness and patience

What to do with emotions

Connecting to Source
Video 5 | Other Ways to Use Tuning Forks
Video 5 will consist of detailed instruction on other exciting ways to use tuning forks. Eileen will discuss space clearing, tuning plants, pets, and other people. You will learn about tuning water, landscapes, telluric currents, and even things like ideas and projects. Eileen will bring it all together and suggest continued exercises and practices to keep your environment healthy and in tune! 
Space clearing

Tuning plants & pets & other people

Tuning water

Tuning landscapes and telluric currents

Tuning projects
Course also Includes:
A bonus session with Eileen and supporting documentation! 
Recommend Tools For Class (a la carte):
| | |
| --- | --- |
| Weighted Forks | |
| Unweighted Forks | |
| Additional Tools | |
Purchase of this workshop will allow you to watch this material any time you wish via your internet connection and Vimeo live streaming. You will see a link to access the series upon completion of checkout, as well as receive an email with the link in your inbox. Access to to this series is available to you at anytime via your Biofield Tuning Store account. You will not be able to download this video onto your computer.
---
We Also Recommend