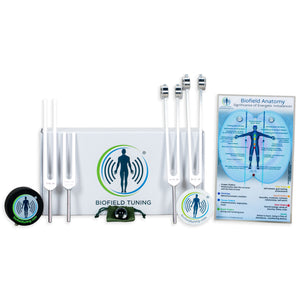 Lite Biofield Tuning Toolkit
$31900

$319.00

$24 Off Regular Price
---
---
Lite Biofield Tuning Toolkit 
If you are on a budget, already own the Biofield Tuning book and/or prefer to purchase the 417 hz tuning fork at a later date, this Lite Toolkit just might be for you. It provides the basic tools needed to begin learning Biofield Tuning on your own and practice on your friends and family, as well as to take our Certification Program.  
The Lite Biofield Tuning Toolkit contains:
Please Note:  The Lite Biofield Tuning Toolkit no longer contains the Biofield Tuning Instructional Video Series.
If you would like to purchase all of the tools used for Biofield Tuning at once, The Biofield Tuning Toolkit may be a better fit for you. Click here to check out our Biofield Tuning Toolkit
If you're not ready to commit to a full kit, and would like to start with just a few tuning forks. Click here to see our full selection of individual tuning forks.
     ACCESS YOUR TOOLKIT INSTRUCTIONAL BOOKLET AFTER PURCHASE    
1. Sign into your customer account
2. Click the [MY DIGITAL LIBRARY] button
3. Click on the Toolkit purchase and open your booklet PDF!
---
We Also Recommend