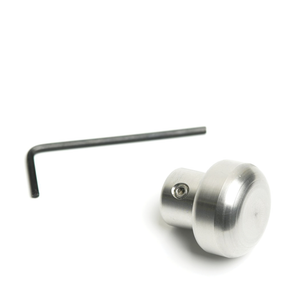 Tuning Fork Contour Boot
The Contour Boot is an unbeatable way to elevate your use of any weighted tuning fork.

With a simple, polished design, this stainless steel accessory (measuring 1"x1"x1") attaches easily to almost any weighted tuning fork, fastening securely with a small inset screw to the base of the handle. (2 screws and allen wrench included). 
The Contour Boot can greatly enhance the benefits of the Sonic Slider when used directly on the face and body. Glide the smooth surface of this boot across your face or any other area of the body for a relaxing and luxurious experience. As the facial skin itself is directly connected to our muscles, the application of vibration on the face invigorates the muscle, resulting in a revitalized appearance. 
By providing targeted mechanical stimulation, you can also dramatically increase your skin's ability to absorb any of your favorite serums or lotions. 
Weighted tuning fork is not included. 
---
We Also Recommend